Bunkerline Bears
Welcome to Bunkerline Bears. Please click on one of the bears below to see more photos of our fuzzy friends, and you can always adopt one of our bears. If however, you REALLY like the look of one of our adopted bears, or indeed want something a little different, then our master bearmaker Simon will accept orders for custom bears. To order a bear, please click either on the "Adopt Me" button, or if you would rather a more one-off bear, or if you simply want to comment about the bears, then please click here.
Jules -
ADOPTED
Made from purple mohair, with amber glass eyes and a waxed nose. Jules is a very traditional looking bear. He is cotter pin jointed and partially stuffed with poly beads to give a little extra weight. Jules is around 12" tall.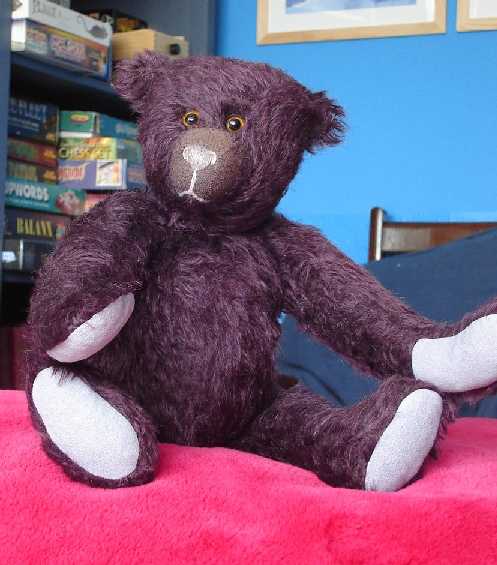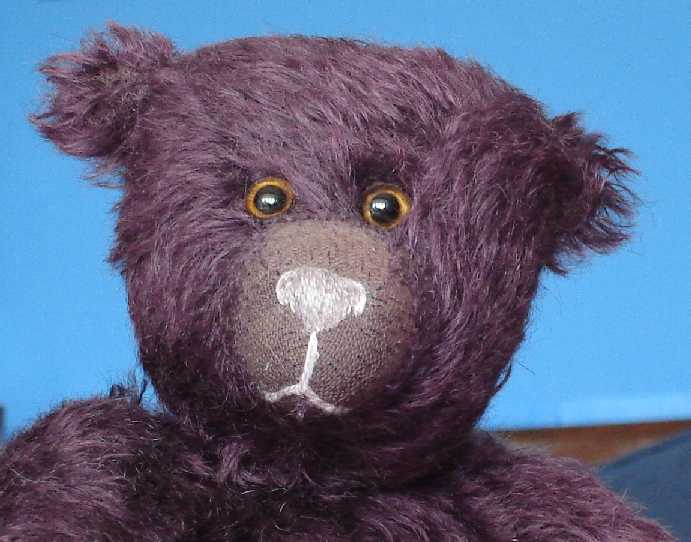 Arthur -
ADOPTED
The first "in house" Bunkerline Bear, Arthur is a traditionally styled bear, and he is about 19" tall. He feels that his burgundy paws and nose set off his fur very nicely. Stuffed for a cuddly 'squidge', Arthur is happiest when he is snuggled up with a loved one. Whenever he can get away with it, he likes to watch the Discovery Channel, as he is secretly a bit of a petrol-head…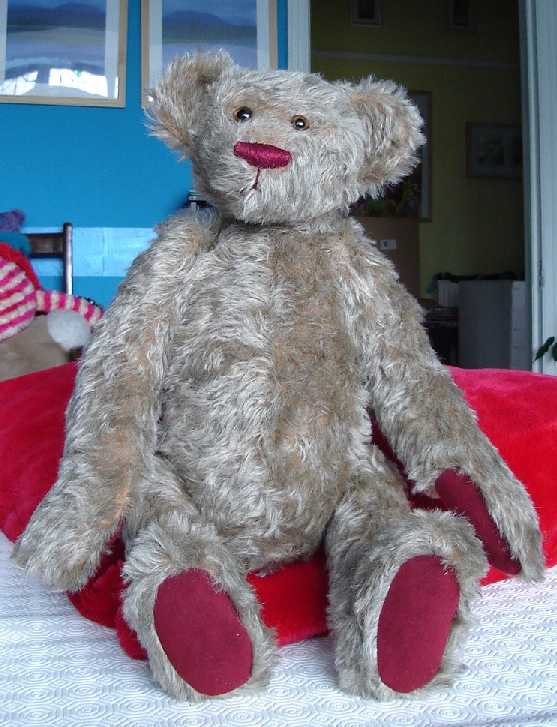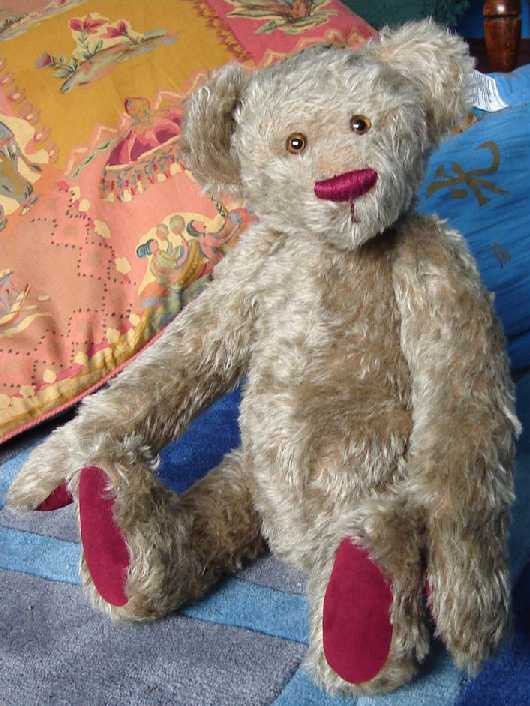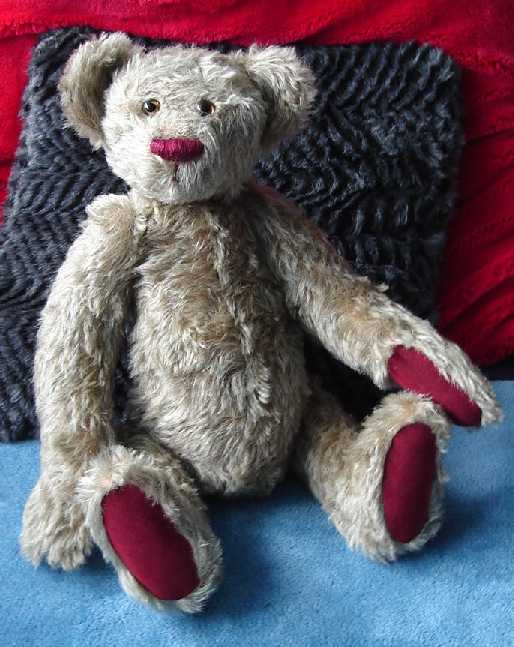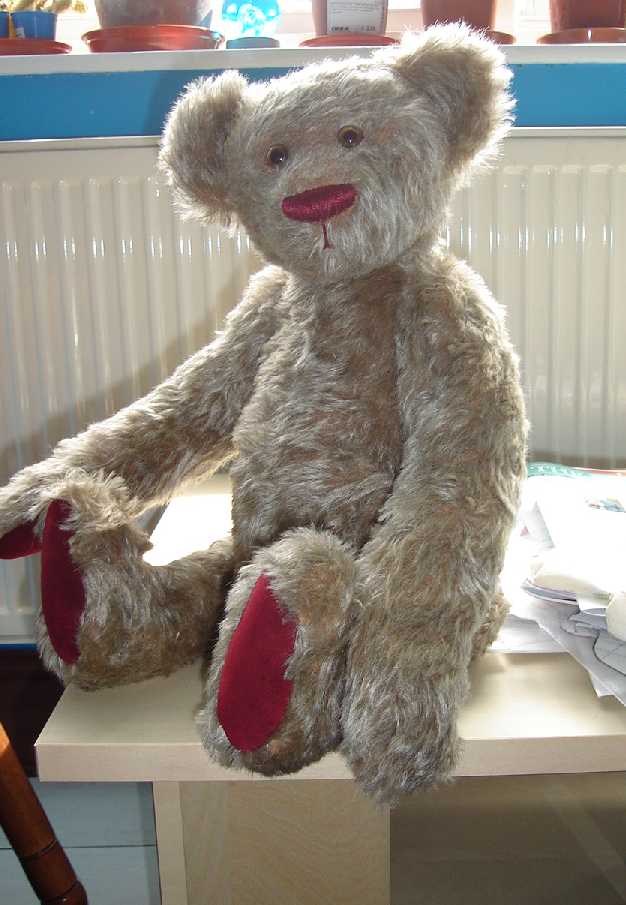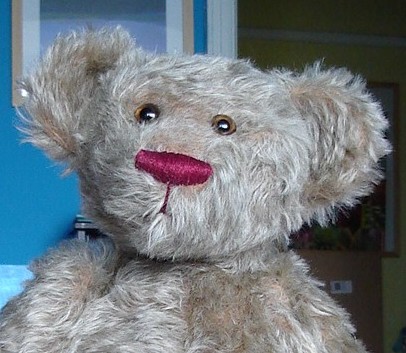 Figgy -
ADOPTED
One of Arthur's cousins, Figgy is about 16" tall, and has pale coffee coloured fur, with ivory paw pads. Figgy is a privileged bear, because he gets to ride around in a convertible all the time. He is very safety conscious, as he always wears his seatbelt!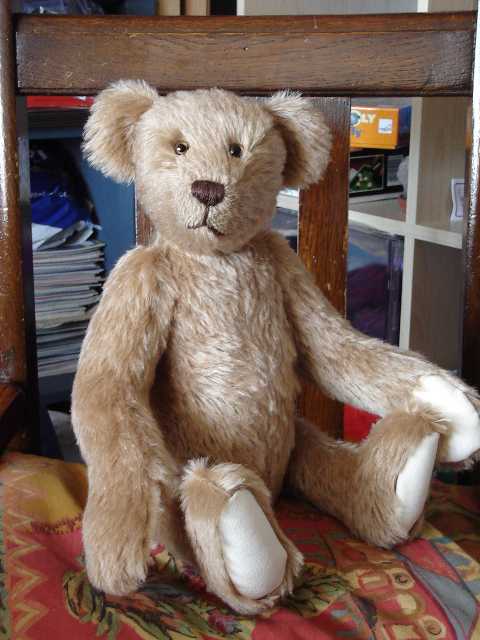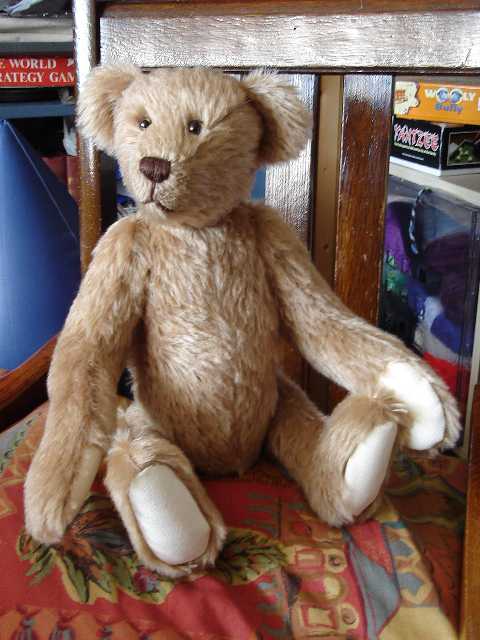 Fred -
ADOPTED
Looks a lot like his brother Blueberry, and enjoys cuddles just as much! He thinks he looks very nifty with his corduroy paw pads as well, especially as they match his owners cardigans so well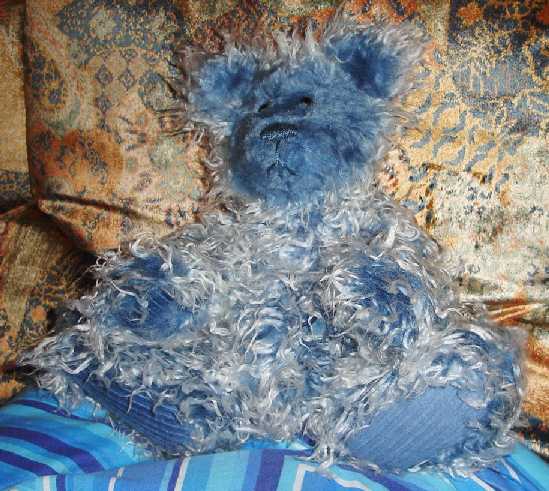 The Brigadeer -
ADOPTED
All-round Bear-in-chief and CEO of Bunkerline Bears. A very large and senior bear, he is 26" tall, and is made of short pile turquoise mohair, with nut and bolt joints. He is very firmly stuffed, with the addition of poly beads and steel shot, as befits a bear of his status. He is happiest sat in his rocking chair, supervising the factory floor.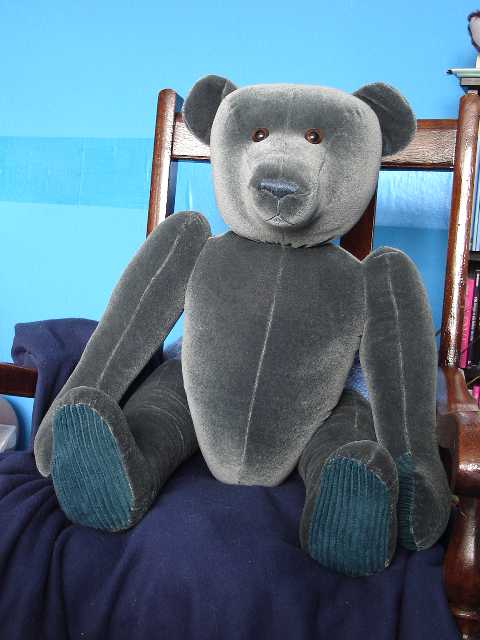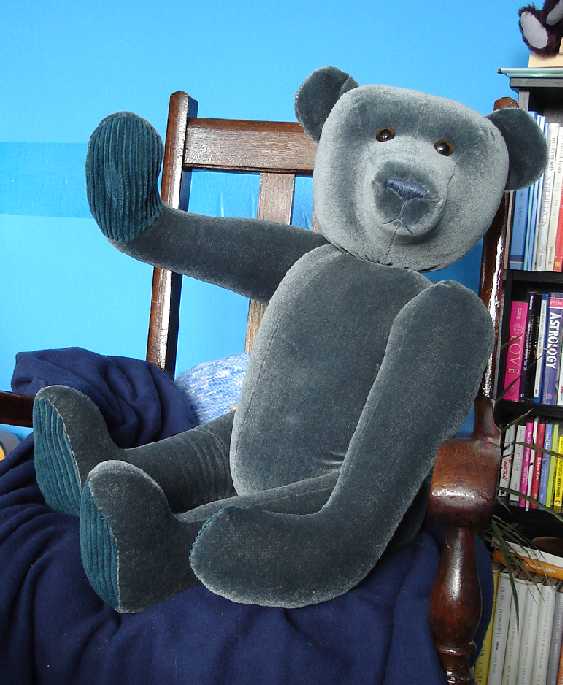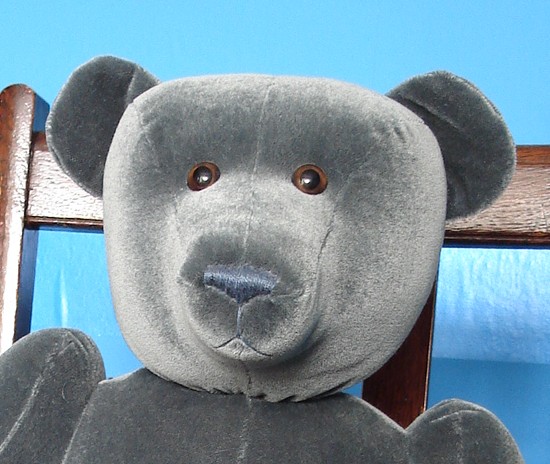 Simon Bear -
ADOPTED
Made from hand-dyed mohair, Simon is very much a one off, much like his owner! He likes to keep warm, and has been given a knitted scarf for just this reason, in fact he likes it so much he never takes it off… He is 14" tall, with glass eyes and cotter-pin joints.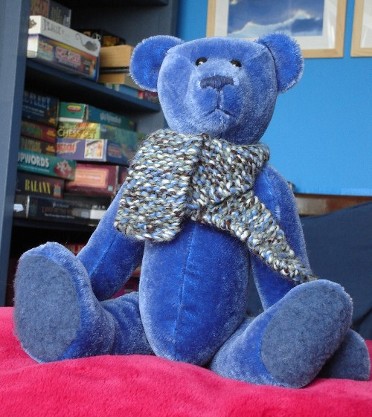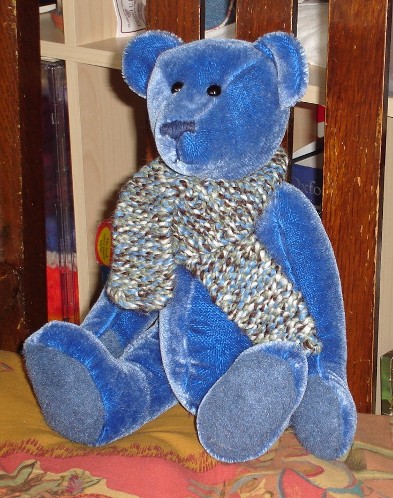 Blueberry -
ADOPTED
Blueberry was the first arrival at Bunkerline. He is loosely jointed, which suits him just fine, as it allows him to relax wherever and whenever the mood strikes.
He is 12.5"" tall, made from shaggy synthetic fur, with ultrasuede paws, cotter pin joints, glass eyes, and is mostly filled with poly beads and steel shot.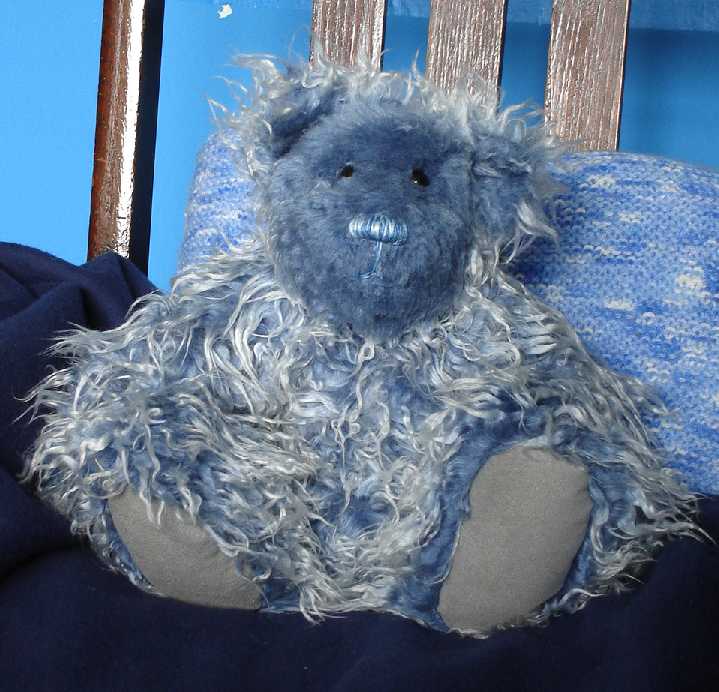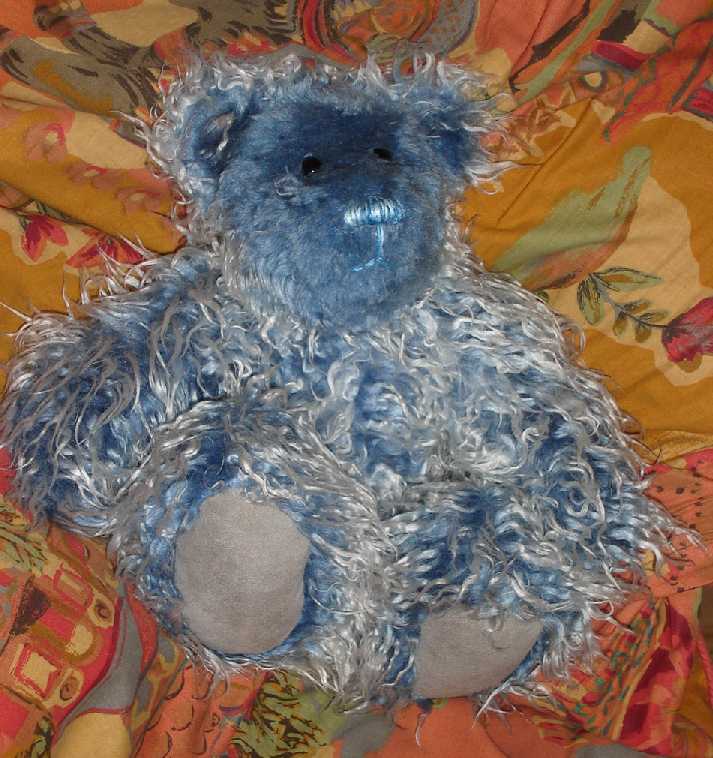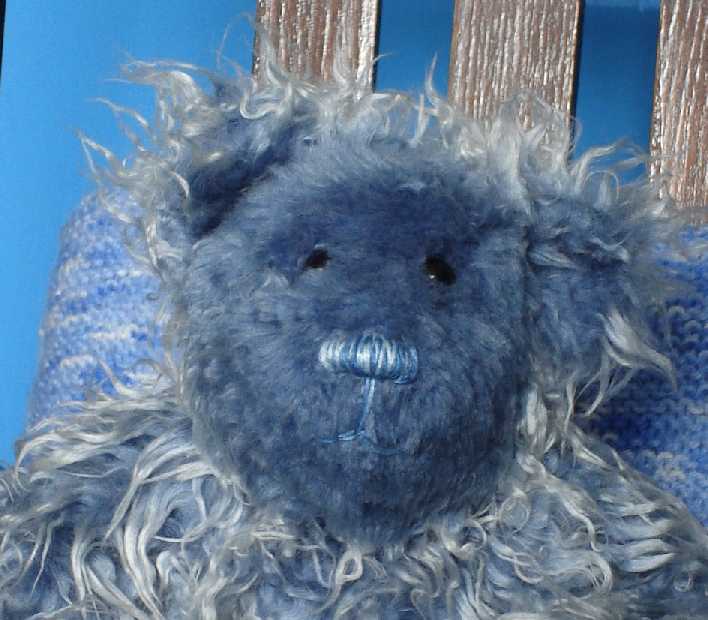 Pink -
ADOPTED
Pink sits 14" tall. He is made from synthetic, angora-style fur, with ultrasuede paws. He has a lot of polyester beads and steel shot in him, so is a really chunky bear. He has cotter pin joints and glass eyes. A very cuddly bear, Pink is always in the mood for hugs, and his nice thick fur makes him every bit as snugly as he looks.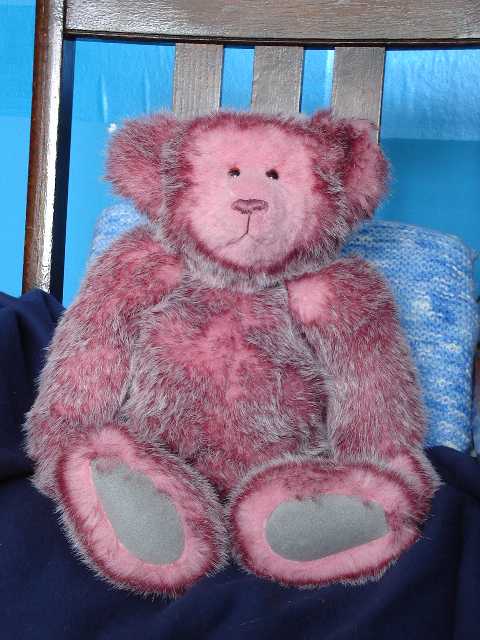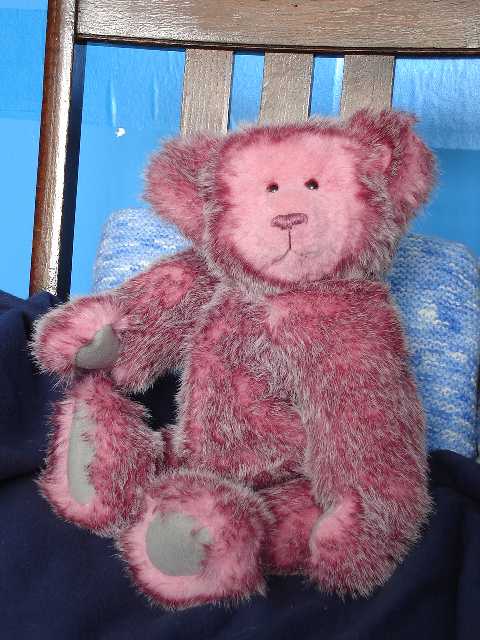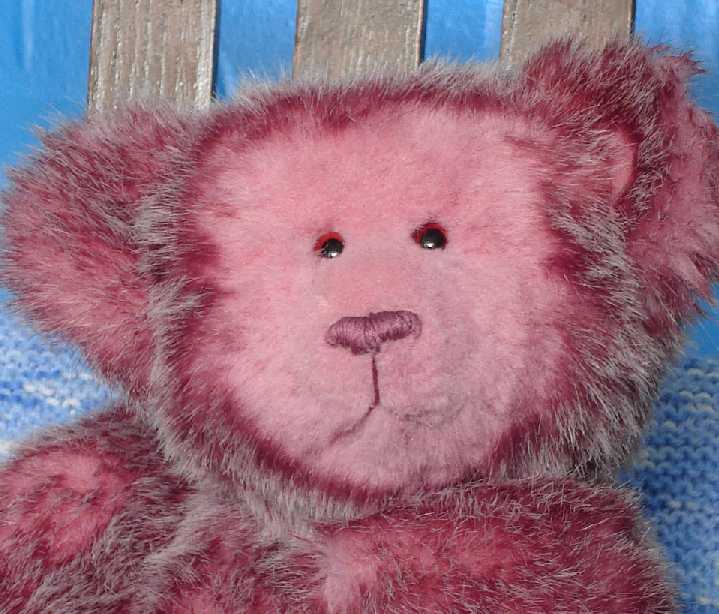 Lefty -
ADOPTED
An extremely curious bear! He has a very inquisitive look about him, and all of the other bears got him to tie a bell around his neck, so they at least know where he is, even if they don't know what he is up to! Lefty has nut and bolt joints, and is very firmly stuffed for a traditional feel.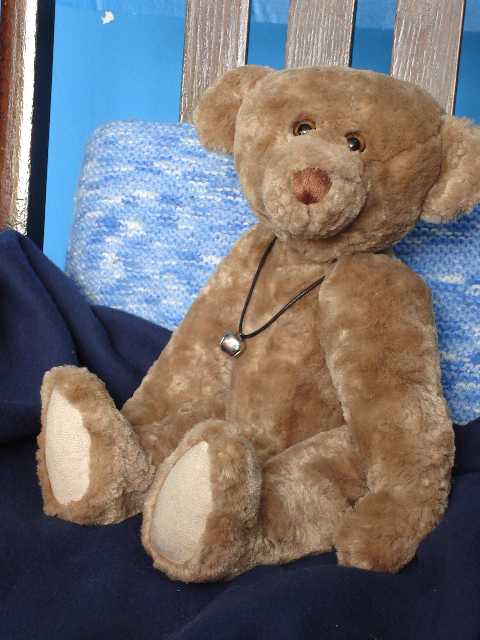 Misty -
ADOPTED
One of the smaller bears in the factory at 7", Misty is made of fuzzy finish felt, with a linen nose, and has glass eyes and cotter pin joints. He is a great lover of snacks, and is never found very far away from the cookie jar. Luckily he is also quite an active bear, so he always burns off the extra calories (apart from his little podge…)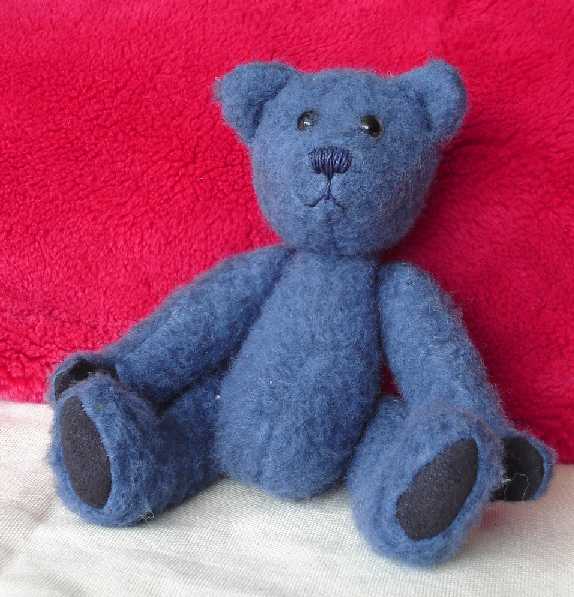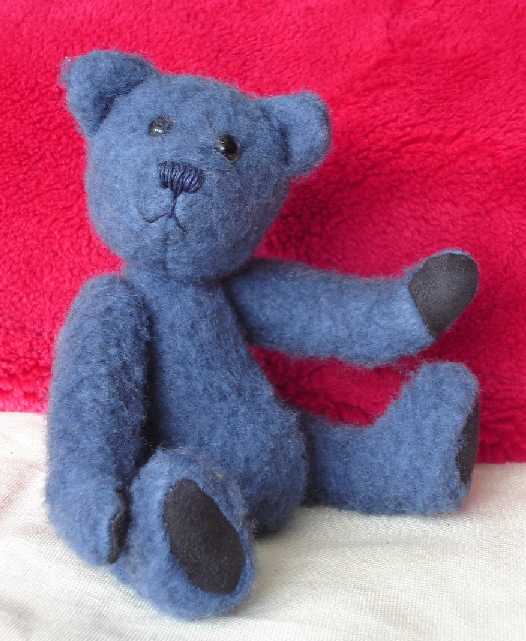 Smudge -
ADOPTED
Another of the Bunkerline small bears, Smudge is around 6" tall. Smudge is a lot heavier than he looks, as he has a lot of steel shot and poly beads in him to give him a little extra weight. He is often found with Misty, and he always appears when the smell of cookies is in the air! (Possibly the real reason for the extra weight…)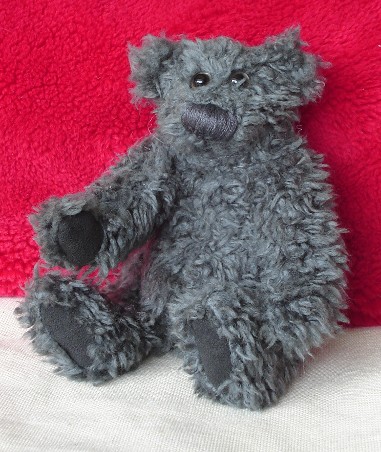 Blue -
ADOPTED
One of Bunkerline Bears' prototype bears, he is strictly limited to one only. He is effectively Arthur's Grandfather, and as such he is much loved. Blue feels that his yellow velvet paws set of his fur very nicely indeed.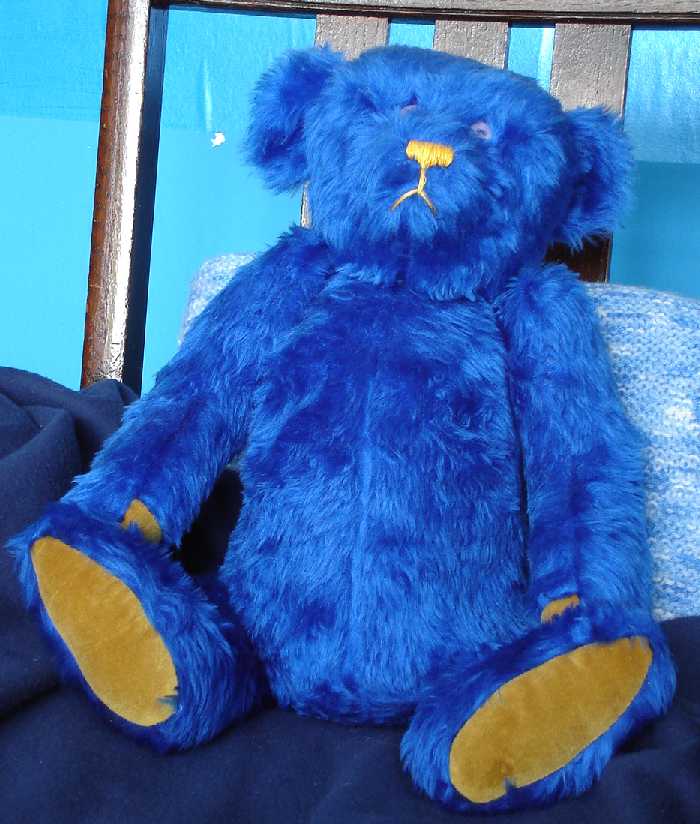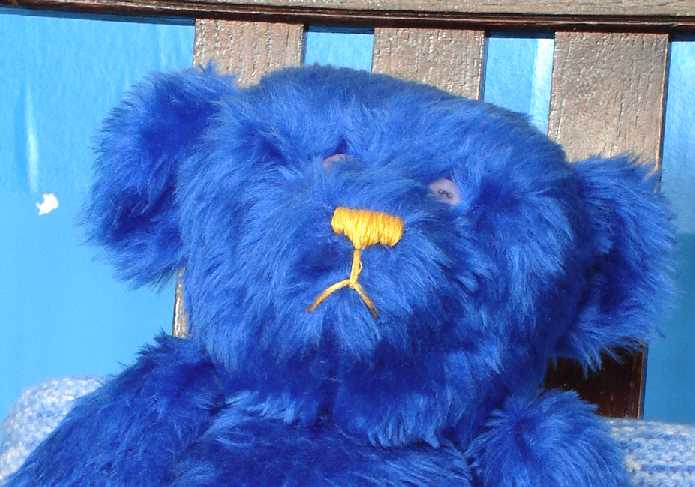 Rowan
Rowan thinks she looks very stylish with her feather boa, especially as it sets off her nose so very well! She also wears a polished wooden pendant, because she is a slightly superstitious bear, and it is always nice to be able to "touch wood"…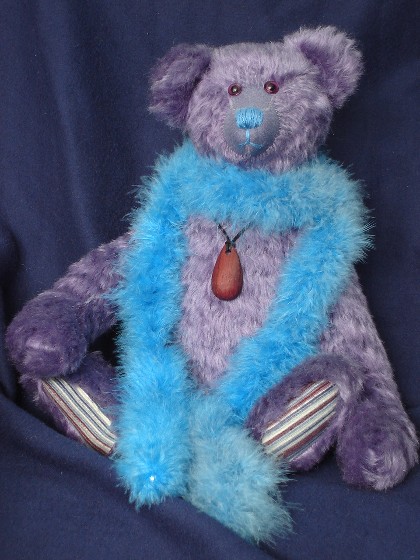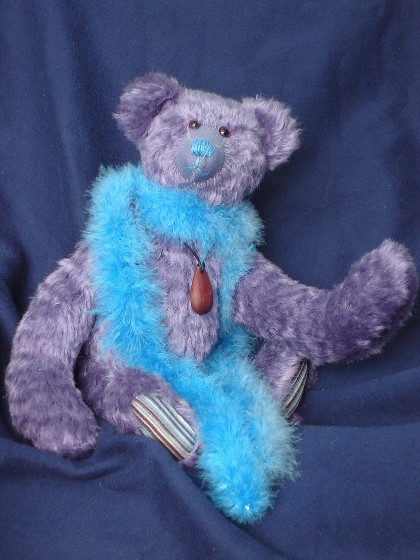 Mr Bear
A very distinguished old chap, Mr Bear has seen his fair share of love through the years, and has the stitches to prove it. That said, he is always ready for more (although less of the rough stuff, please). Mr Bear is made from hand dyed mohair, and is huggably squidgy.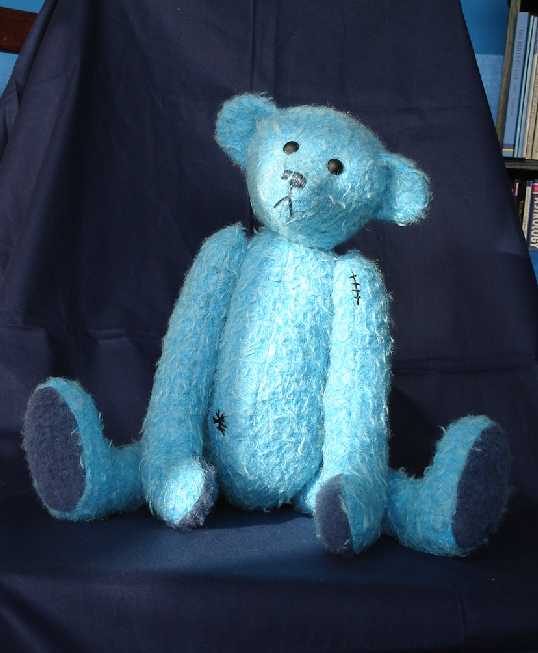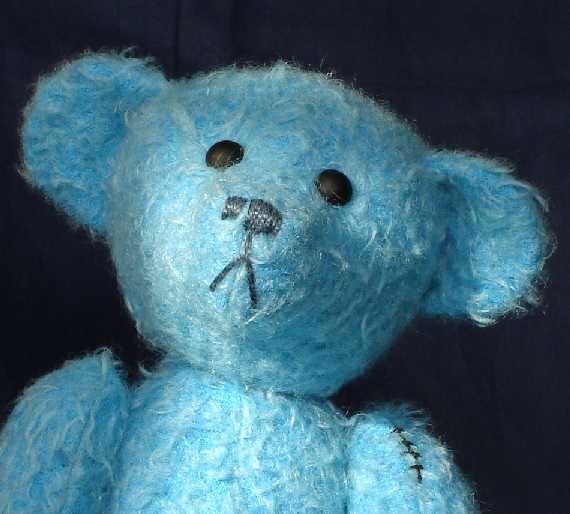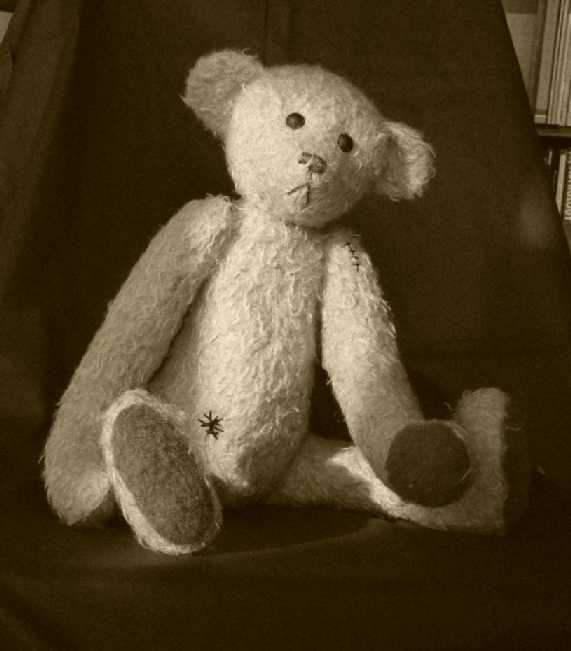 Scraps -
ADOPTED
Another one Bunkerline Bears' prototype bears, Scraps is smaller than Blue, sitting around 12" tall. He likes the fact that his denim paws match his nose.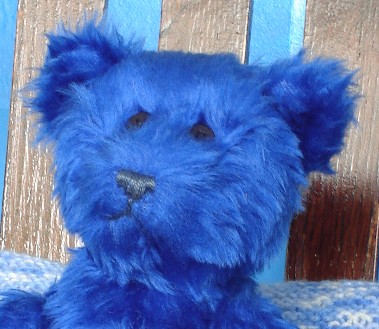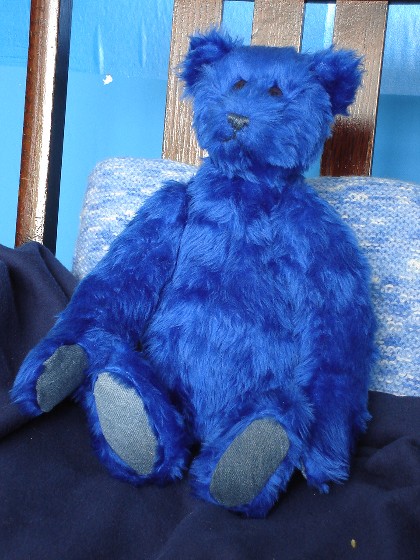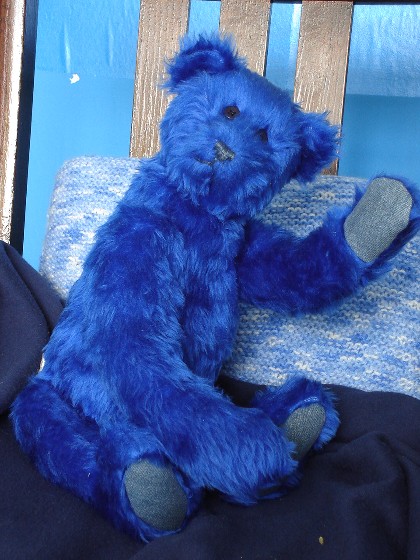 Minty
Made from pale green alpaca, Minty has a blaze of pale violet fur on his chest. This is shown off at its best when he stands up to his full 15"! He has cotter pin joints, and has poly beads in his paws and tummy for extra huggability.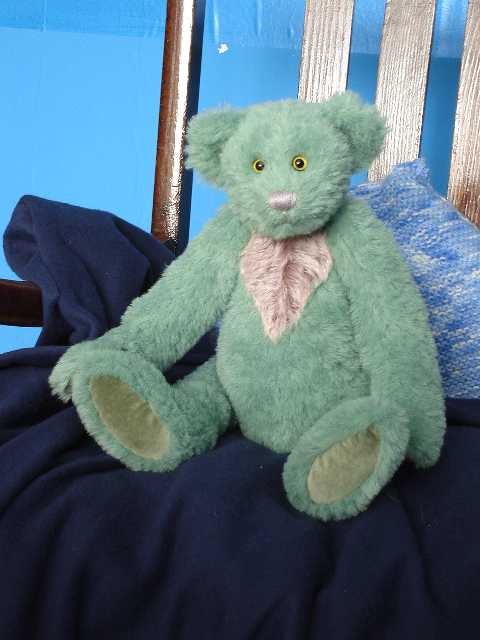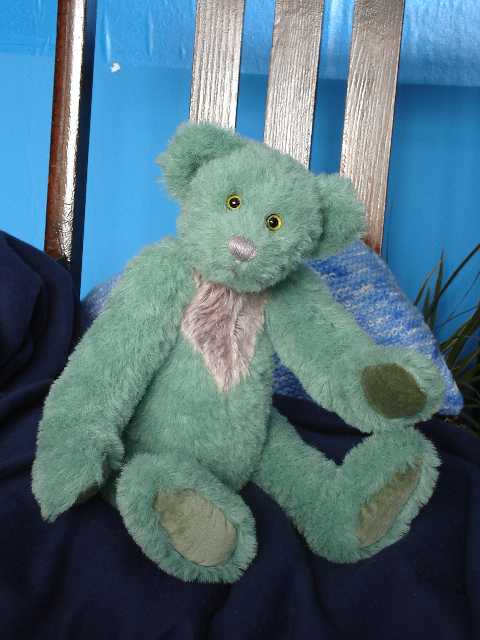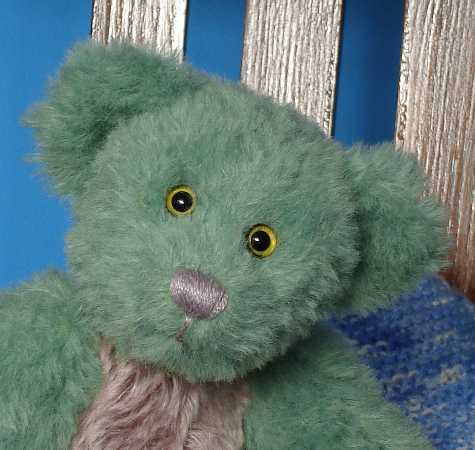 Midge
By far the smallest Bunkerline Bear so far, Midge is made of upholstery velvet and is thread jointed. He stands a colossal 5" in his stocking paws. True to the form set by the other small bears, a lot of naughtiness is squeezed into this tiny teddy's frame…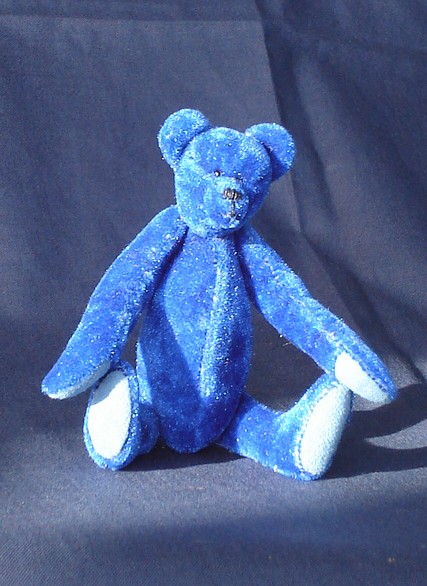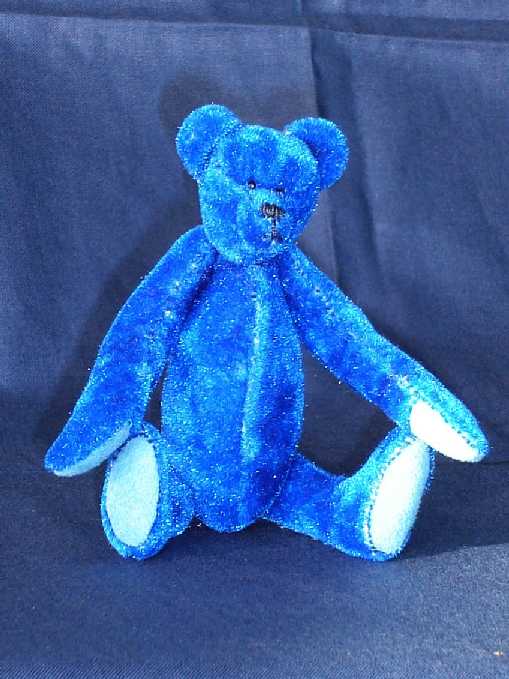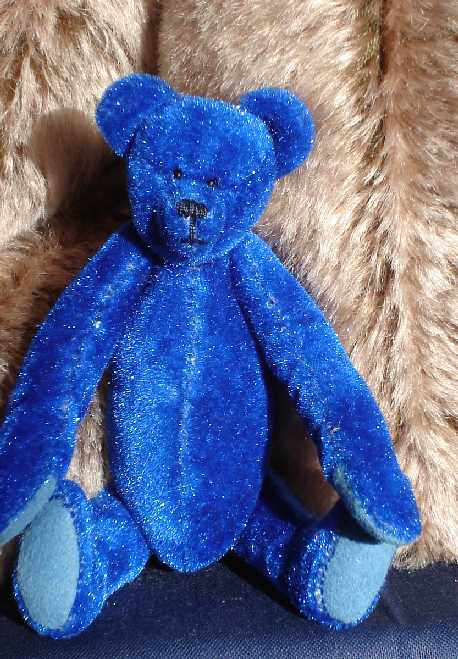 Rufus -
ADOPTED
A close relative of Figgy, Rufus is very much the adventurous, trail-blazing type. Passport in paw, he set has set off to start a new life out in the USA.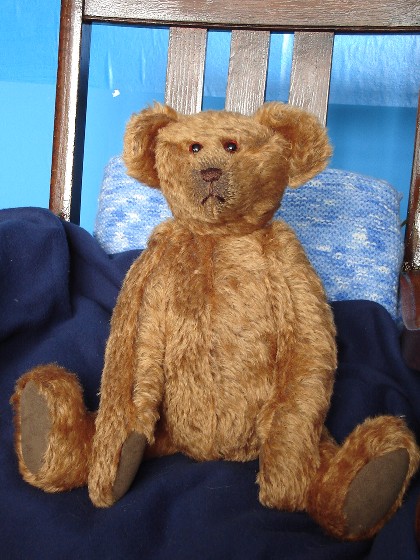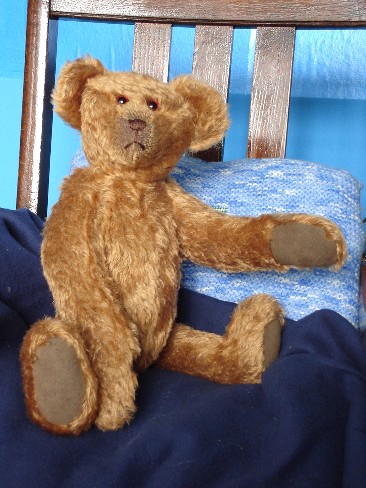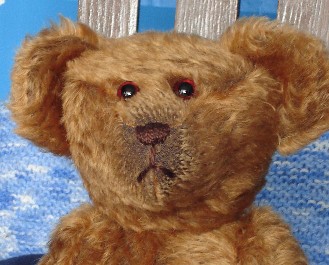 Mulberry
A very business-like bear, Mulberry is ready and willing to get stuck into work, an example that the Brigadeer wishes some of the other bears would learn from. He always makes sure he is wearing his collar and tie, so to look his best. Mulberry is made from mohair, with glass eyes and cotter pin joints, and stands 18" tall.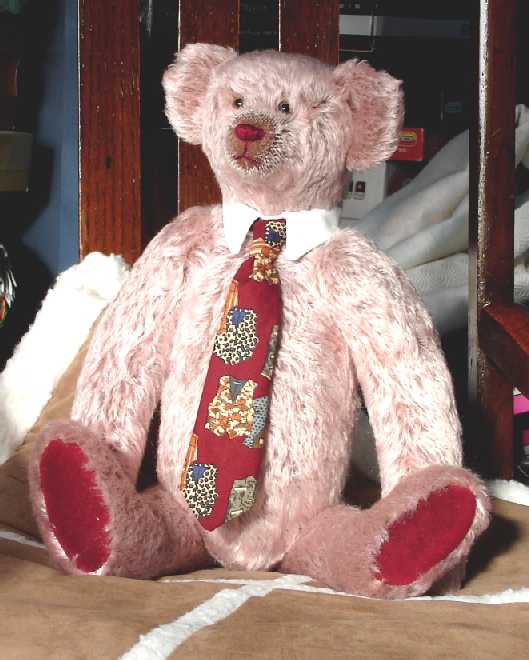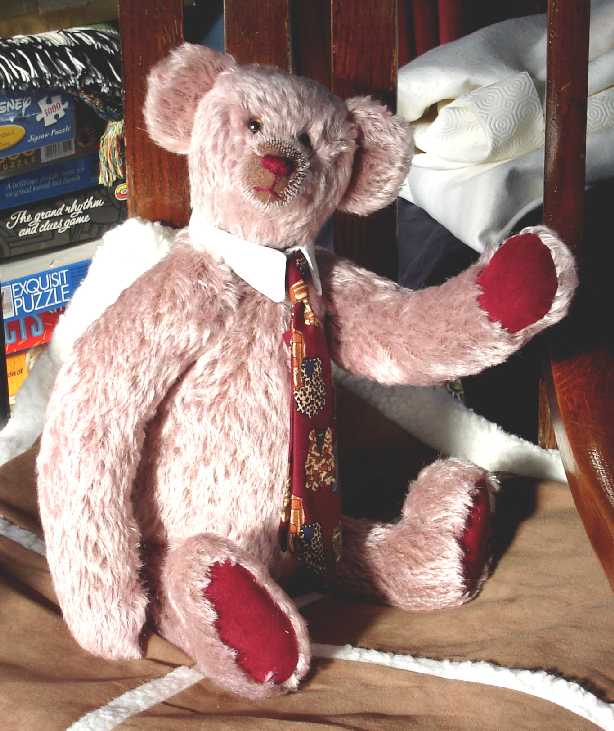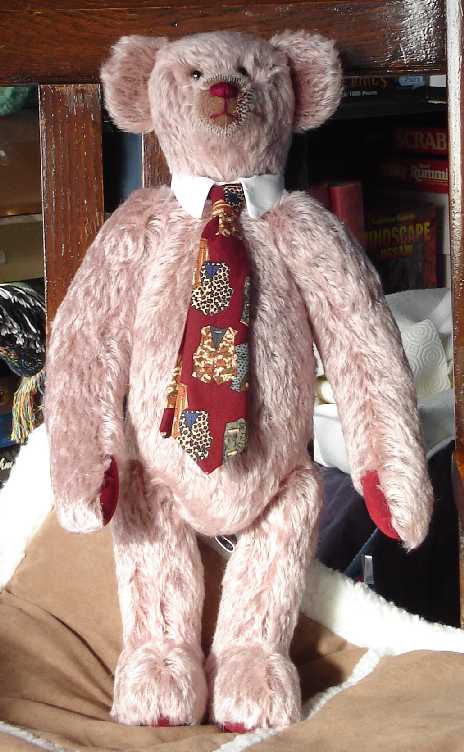 Scamp
A troublesome little bear indeed, just like the other small Bunkerline Bears. One look is all it takes to see that he is full of mischief. Made with purple mohair and cream paws, it's a mystery how he keeps them clean…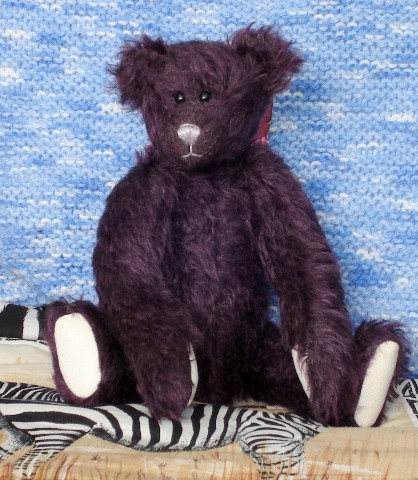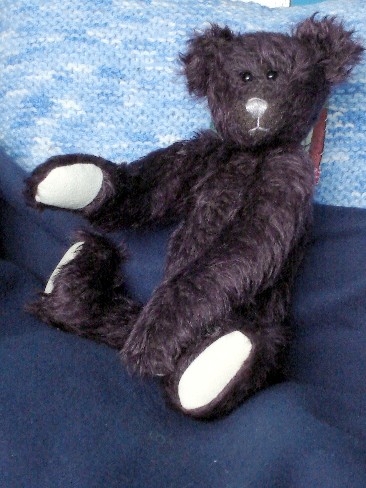 Wolfie
Fur as fluffy as his heart is big. Everyone finds it difficult not to fall for those soulful blue eyes of his. Wolfie is well aware of this, but does not abuse this fact to get away with things…usually. Wolfie is made from synthetic fur, with glass eyes and cotter pin joints. He stands 20" tall.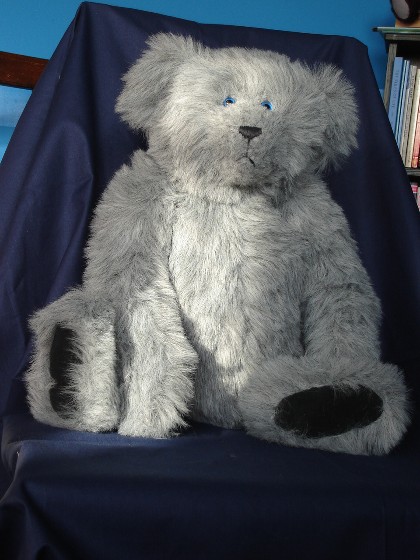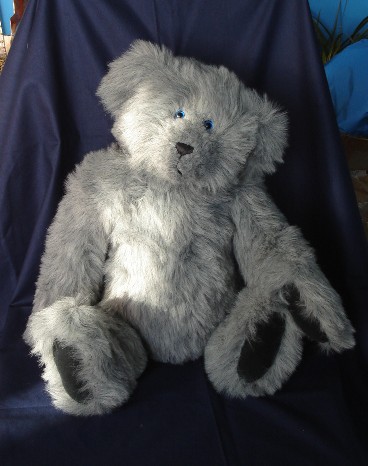 Mal
Mal very quickly worked out that Simon Bear was onto a good thing, and went out to find a scarf of his own. At heart a slightly flamboyant bear, he laid his paws on a natty fluffy green example, which he loves dearly. Mal is made of blue Schulte mohair, with cotter pin joints and glass eyes, and is 14" tall.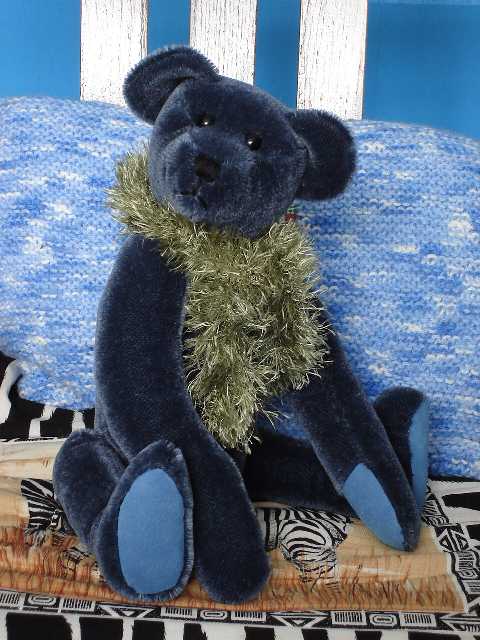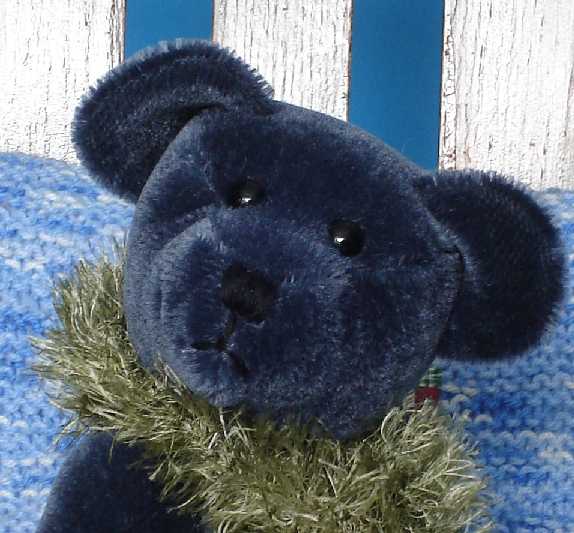 Amethyst
An especially thoughtful bear, Amethyst has a very far away look in her eyes. Luckily, a good cuddle always brings her right back to Earth! Amethyst is huggably soft, made from tipped cream mohair. She has glass eyes, cotter pin joints and stands 16" tall.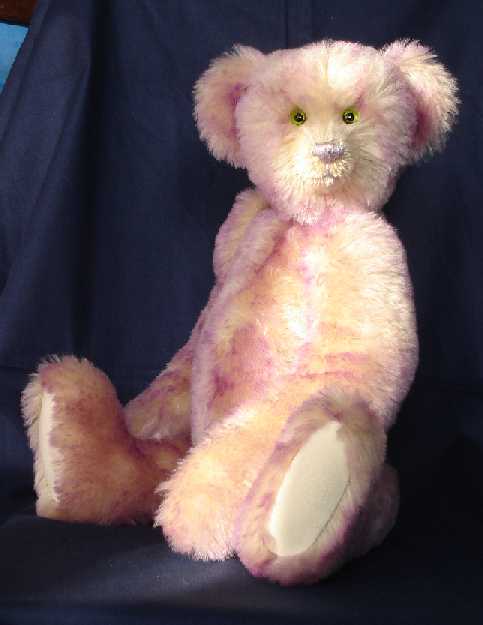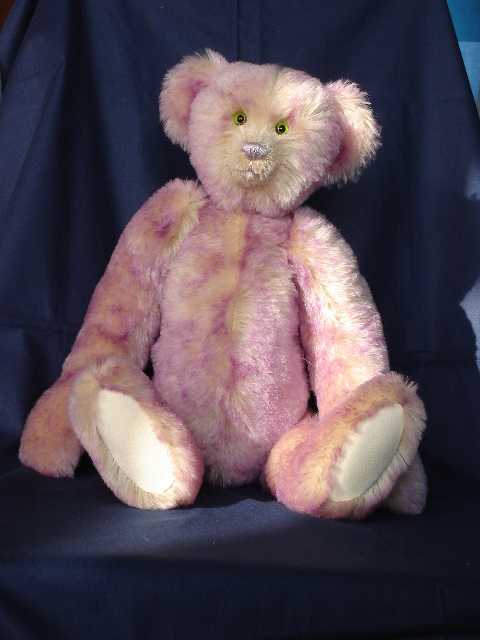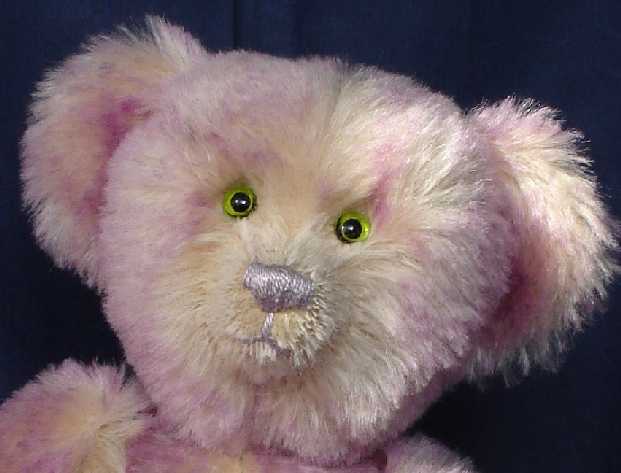 Barclay
He may be a big strapping bear, but Barclay is very gentle and cuddly. To make sure he doesn't accidentally loom over anybear, he has conscientiously tied a bell around his neck. That way everyone can hear him coming! Barclay has nut and bolt joints, glass eyes and stands 26" tall.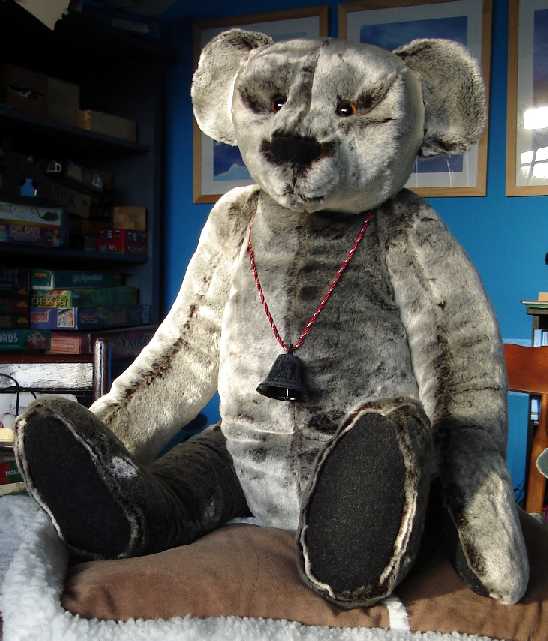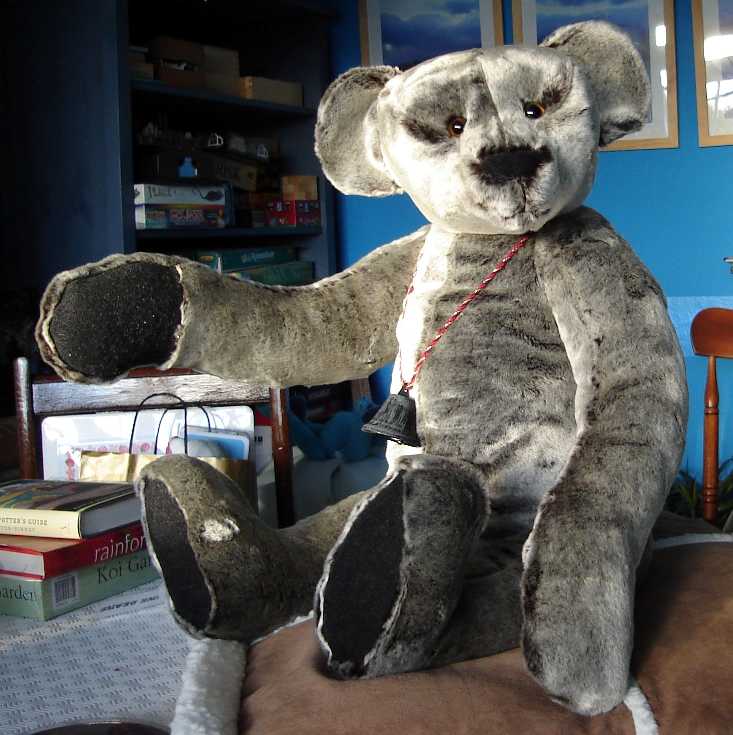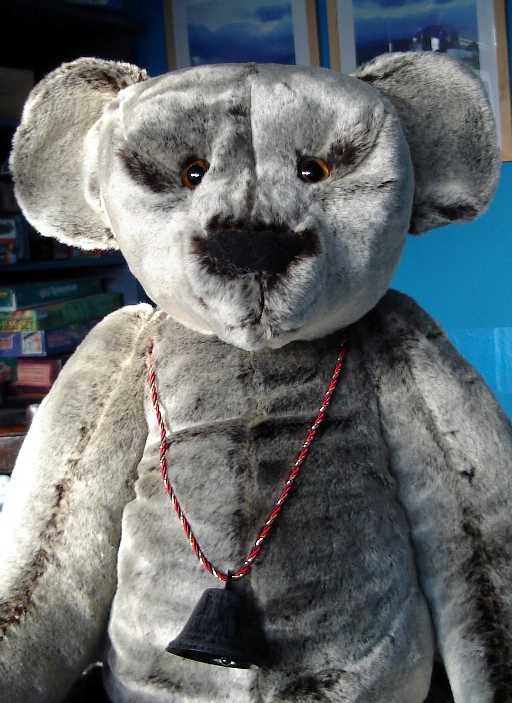 Fudge
Just as sweet as his namesake, but thankfully not as sticky (usually). Fudge is a very alert and adventurous bear, forever on the lookout for the next escapade. He is made of mohair, with glass eyes, cotter pin joints and stands 14" tall.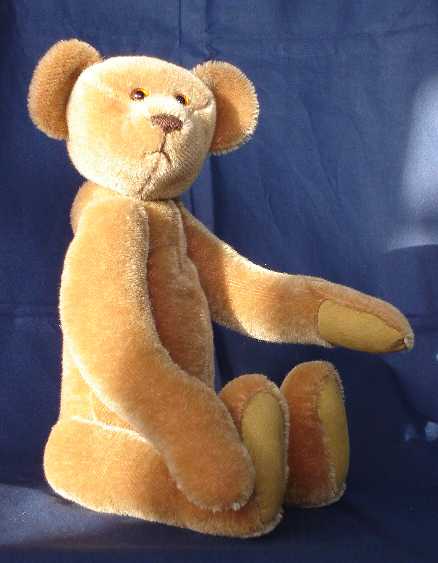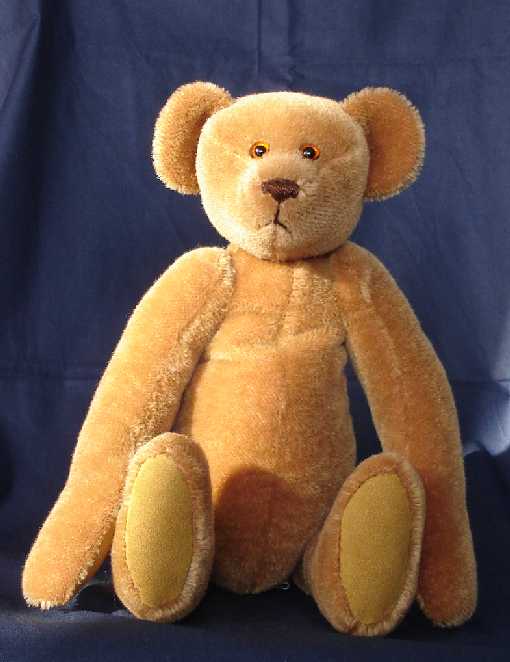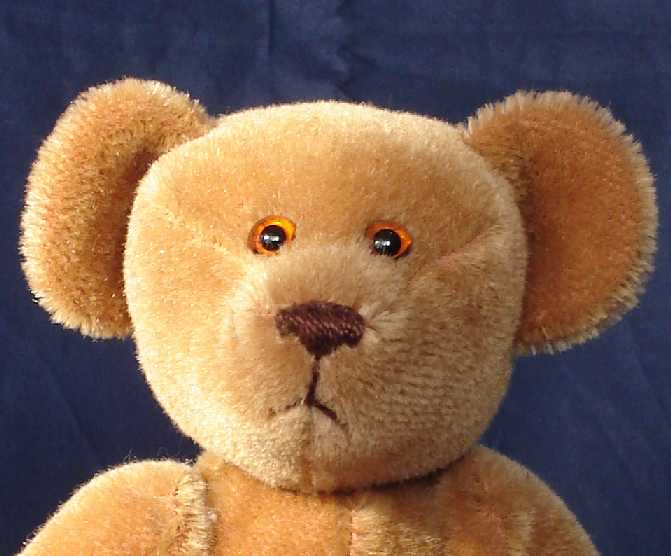 Crawford -
ADOPTED
He may be yellow, but Crawford is no coward… Nothing gets past his observant gaze, and he tries to keep the small bears in line, or at least out of serious trouble. The other bears liken this to trying to empty a well with a sieve… Crawford is 15.5" tall, with glass eyes and cotter pin joints.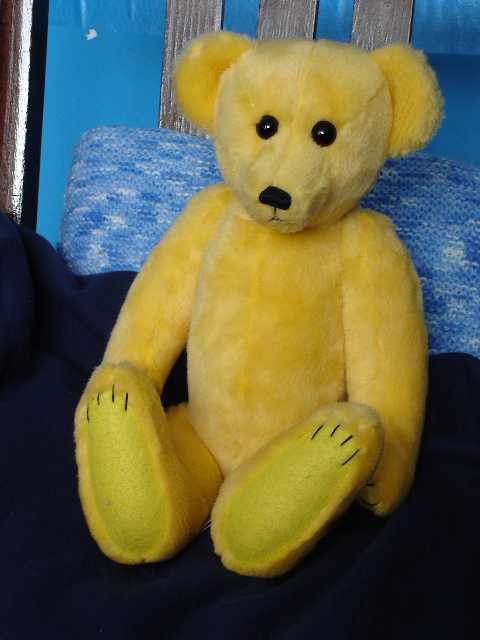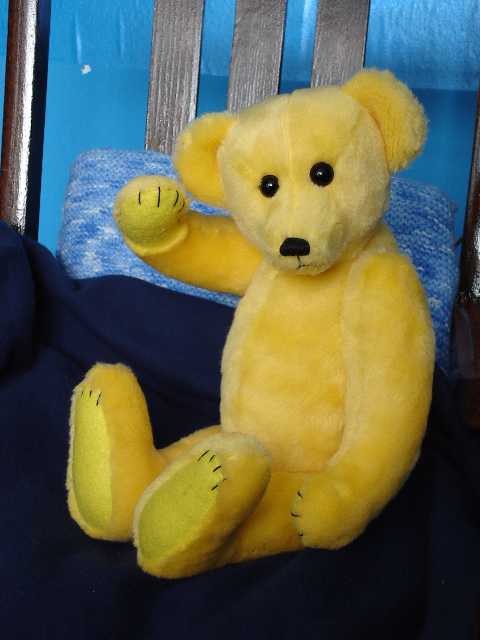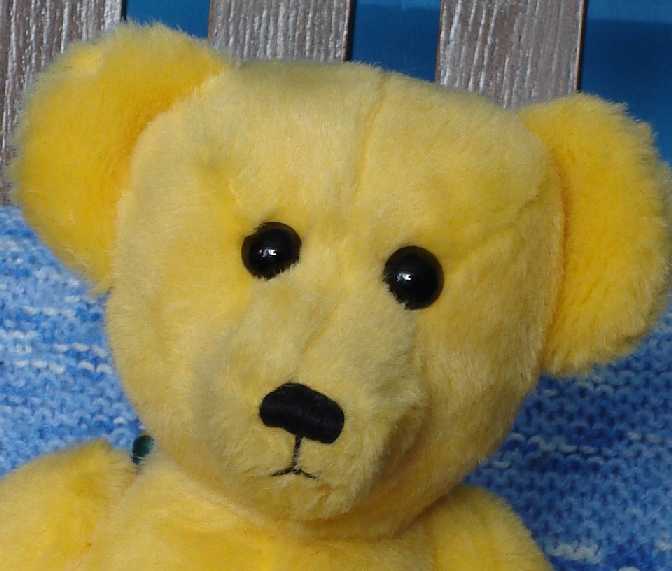 Bracken -
ADOPTED
Bracken is another very adventurous bear, as you can probably tell looking at those inquisitive black eyes of his… He has followed Rufus into the West, emigrating to the U.S.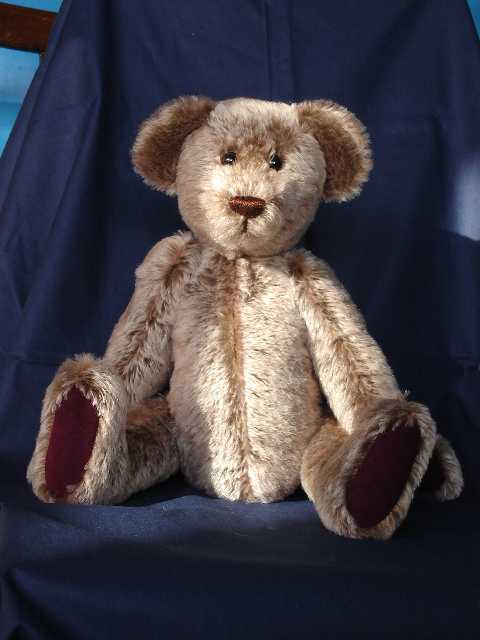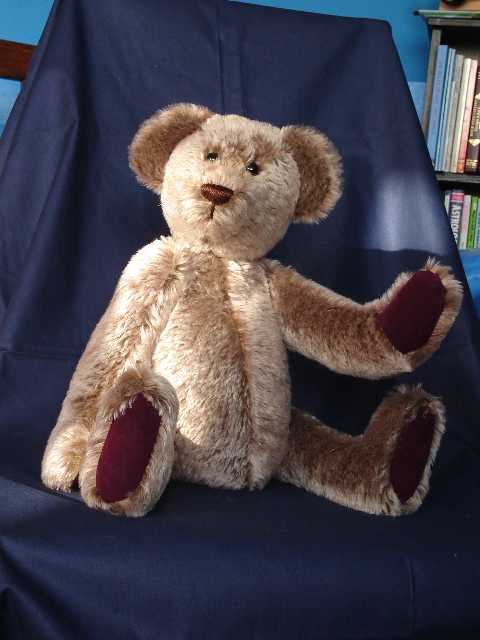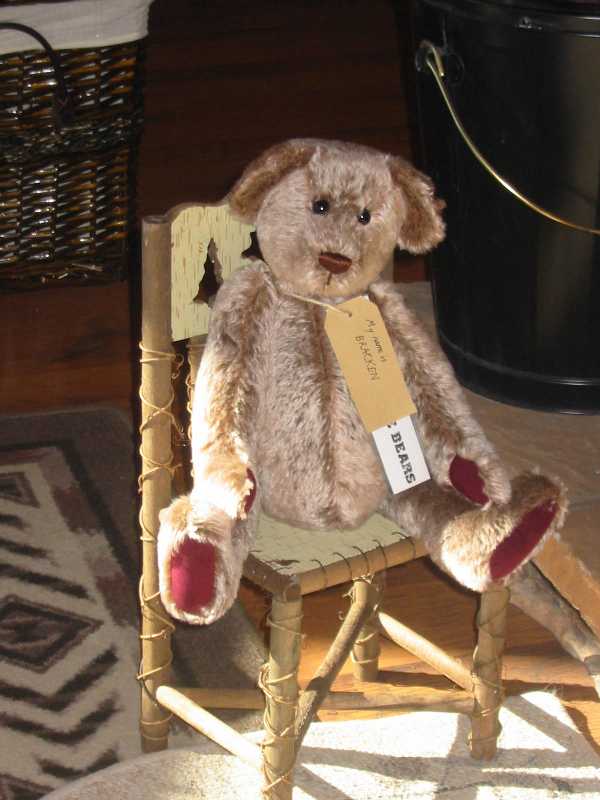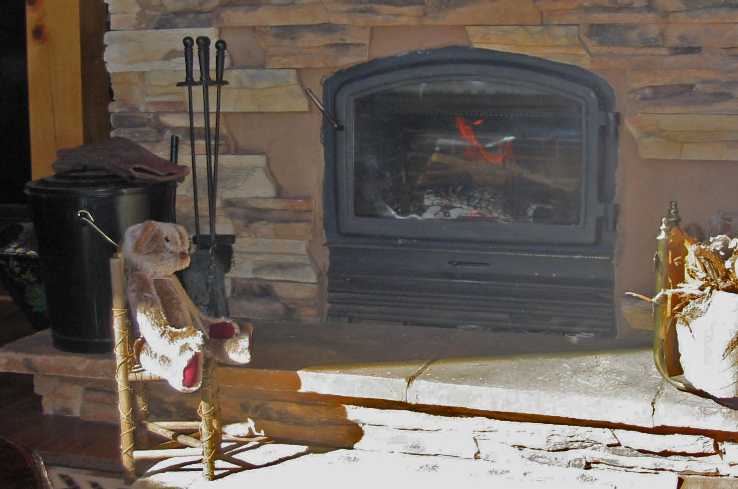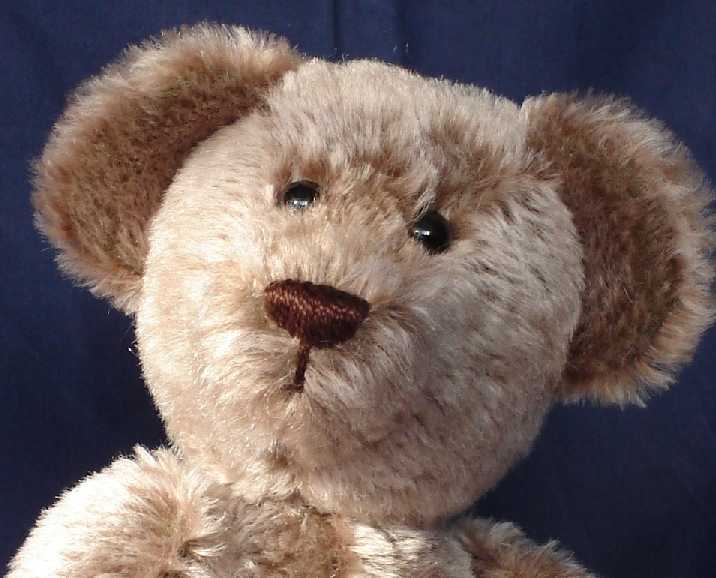 Rose -
ADOPTED
A safety-conscious bear at all times, she has child friendly joints and safety eyes. This has allowed her to take up a place in a nursery, where she plans to watch over and comfort her charges for as long as she is able. Made in dense synthetic fur, she stands 14" tall.